Simone Morana Cyla, is an italian digital artist.
He began his carrier as musician, composing the first songs in 1996, creating up to 2005, more than 50 songs entirely self-produced, placed in 4 albums, collecting a third place in the National Selections of "Sanremo Giovani" in 2001, an album released on iTunes in 2008 and a single in the 2011. Since 2012 he collaborates as a designer for the American portal "Society6" and starting at the same time also a new experience in the field of digital art, with the creation of numerous paintings, published in different sites, social networks and blogs. After the acclaim received in 2014, as a digital artist, arrives in January 2015, the first exhibition in the city of Florence at ArtExpertise.
I see you create digital art in a surrealist style, was this movement an inspiration in your work?
I love the surrealism, the oniric , the mystery and I take inspiration from my dreams but also my nightmares, movies etc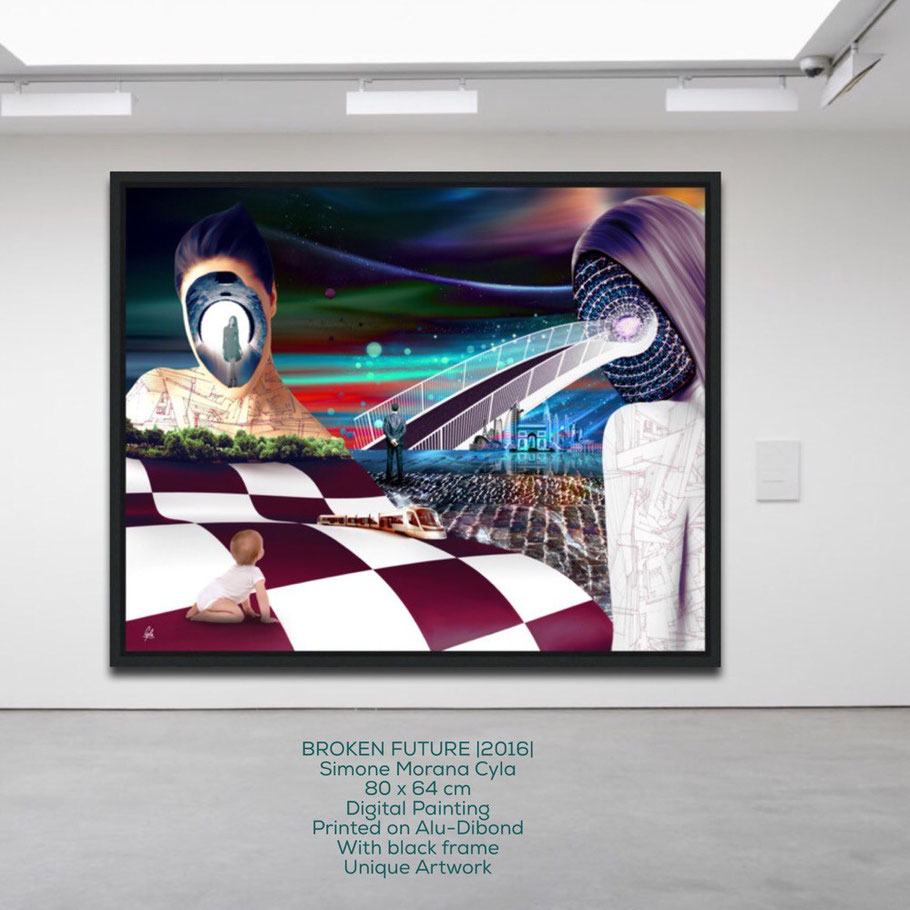 Do see yourself as a fine artist or a digital artist?
I'm a 100% digital artist but i realize often "one piece only artworks" like a fine artist. Many consider me an artist "version 2.0"
Your work uses a lot of layers. What is it that the layers bring to the work?
It is true! I use a lots of layers and also a large number of objects and characters to complete my mental diagram of what I want to tell you.
My artworks are always complex mix of stories with an hidden meaning.
Do you use found imagery of people, buildings and animals or the opposite taking photographs?
I use some of my own photo shoot but often i paint directly with digital pencils. Photographic Filters and digital collage.
Some people called my mix of techniques "Digital Pictorial Assembly"
How do you know when you have manipulated and finished an artwork?
Usually I see that I'm finished the artwork only when my mental speech that I had prepared in my mind has been reproduced in the picture.
It's like a chessboard with many characters inside.
How do you define the word art?
Art for me is when the humans express the deepest soul, the creativity.
Does all your work use one technique or style?
I think in these years, i have almost reached a precise style of digital composition.
I'm satisfied of my last artworks because with these many techniques that i use I finally express myself very well.
But the artistic way of my soul is more long and complicated!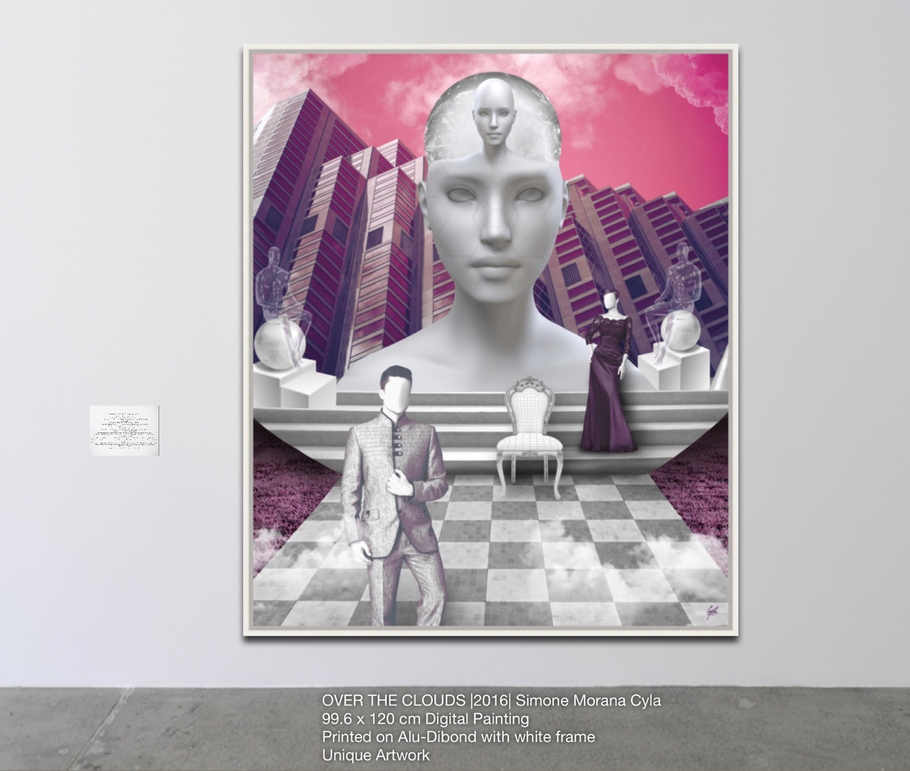 Who are the most inspiring people to your work?
I paint love, fear, dreams of humans. My person is also inside my works with many appearance of a child, man, spiritual figures.
Do you find yourself being your own critic?
Always! I I always try to improve myself every day and learn new things for my future work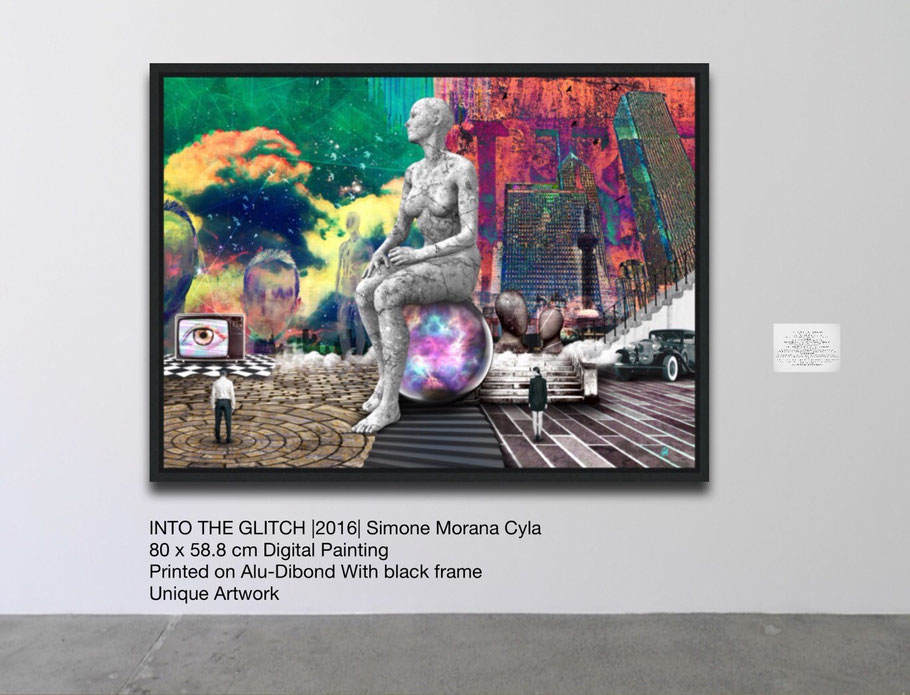 What made you take the translation from music to digital art?
The digital art has been a discovery for me. I never expected to be able to realize so many artistic projects. This new passion has captivated me so much by neglecting the music.
Was music your first love or was it just the creative nature that inspired you?
The music has been my passion for 15 years but some traumatic events let me out of this road.
Something has changed in 2012, when I began to discover digital art.
How would you describe your style of music?
My style of music was many various. I began with rap in 1995 and finish with dance in 2011.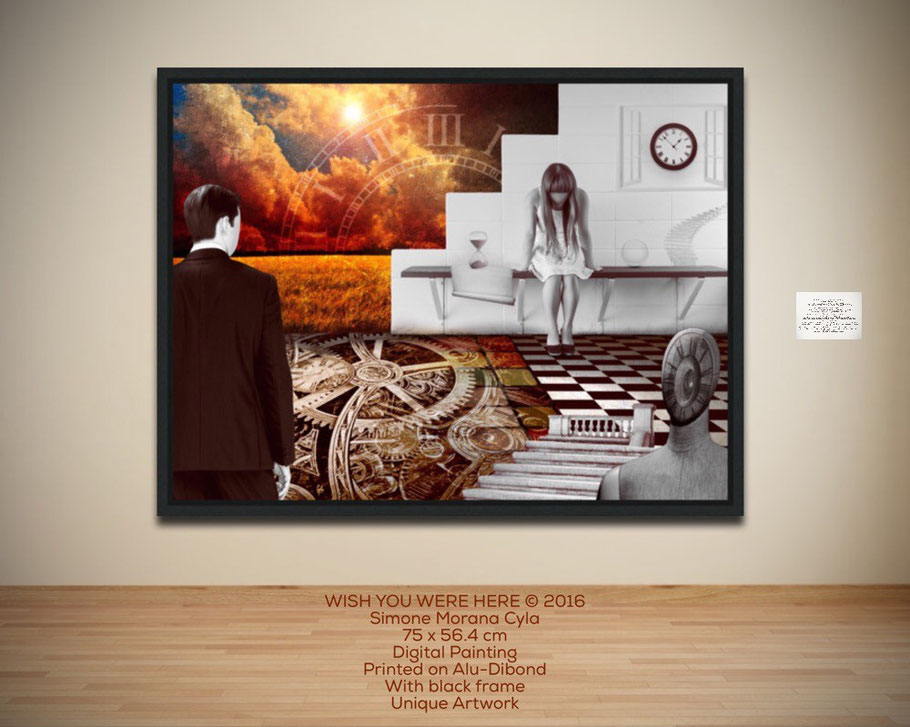 Does your music explore the same themes displayed in your digital artwork?
The themes sometimes are similar but with digital art, I can explore better the depths of my soul, my inconscious and this make me artistically more complete.
Did you teach yourself your creative skills or was it academic?
No, I have always learnt everything by myself!
it's all very satisfying, but hard!
What music artists had the most influence on your music?
I'm writing music from 1995 and in these years i have many favorite artist or group, i have produced pop, rock, dance ,rap.
I love all the artist and all the music.
In this moment however i have take a little pause from produce music!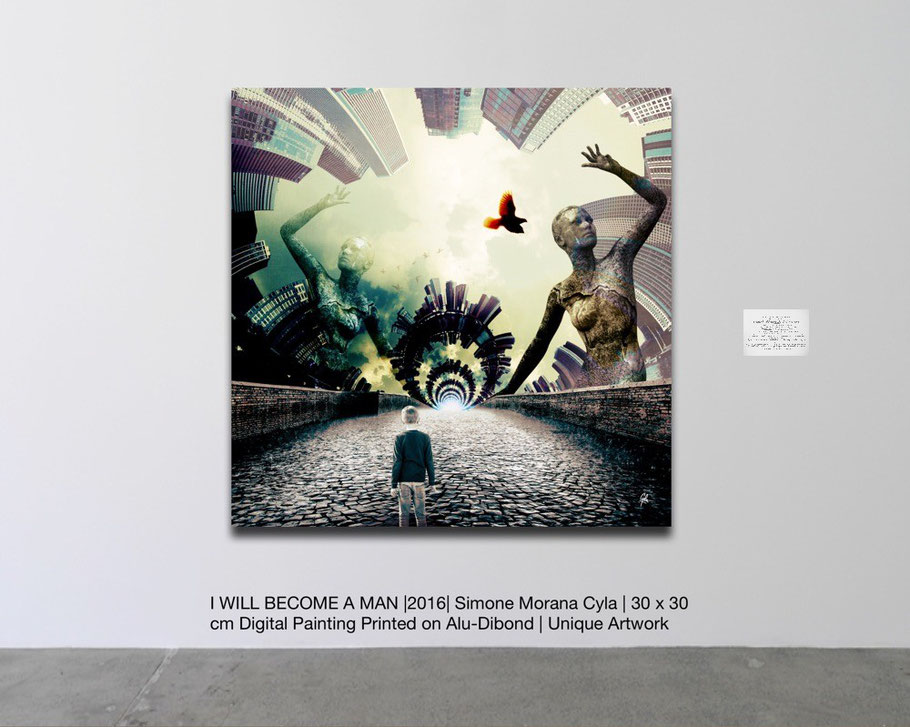 I noticed you have done some collaboration's with charity stars
How did these come about?
Charity Stars is an important collaboration for me this year.
Maria Florencia Martinelli is the Art Manager of this group and she selected me for expose my artworks on this awesome platform. I'm very happy for this!
We help many onlus and charity associations.
Do you have any more upcoming collaboration's?
By the time I blocked any collaborations because I'll be moving for a few months in Tenerife to follow an artistic tour for personal and group exhibitions in all the Canary Islands!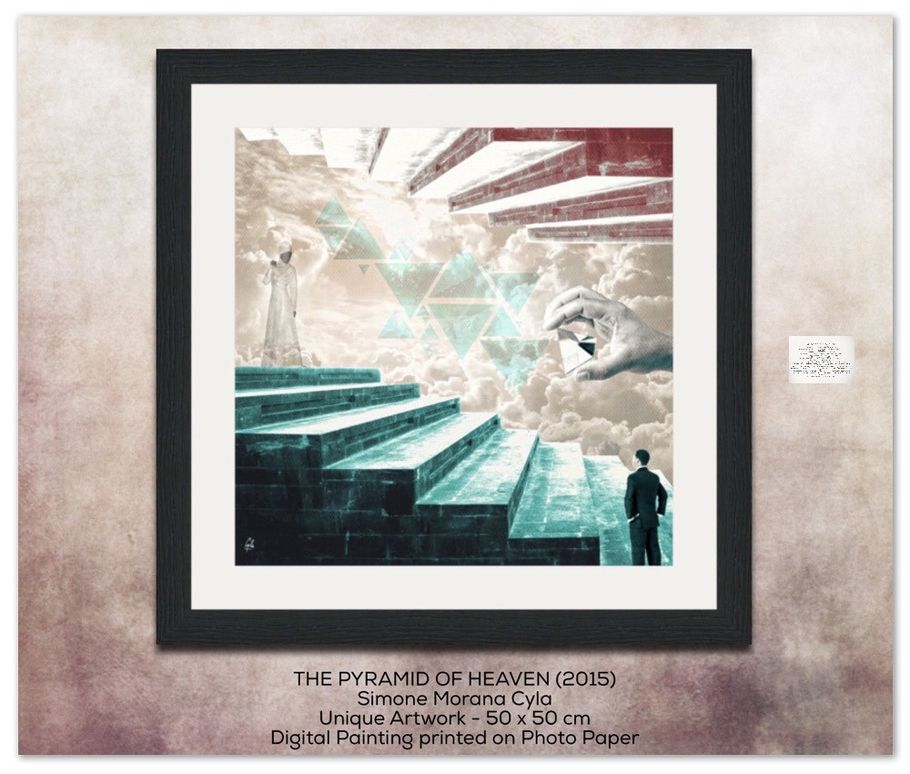 You also have some experience in working for Society6. What did you learn from your experience  of working with them?
Society6 is a fantastic site.
I have published from 2012, more 1000 fashion artworks for produce iphone covers, tshirt and various apparel.
What has been the biggest thing you have learnt so far in your creative career?
I always learned to listen to the advice of the most experienced people and to improve myself every day.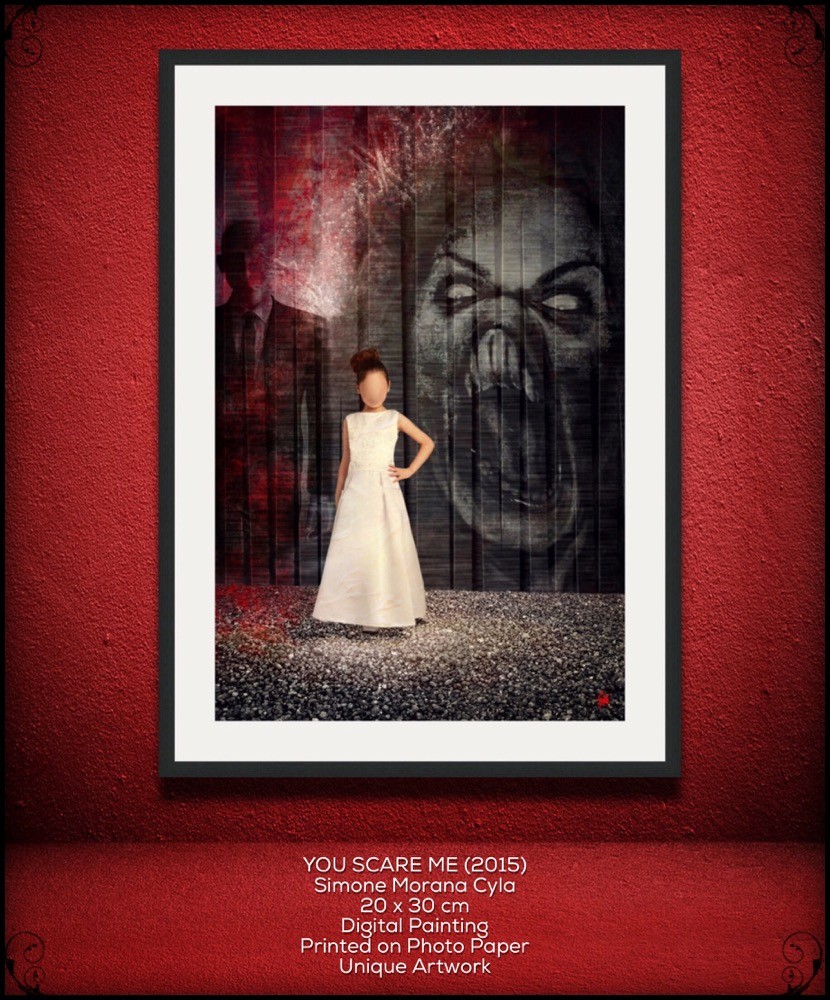 You have also written poetry what inspired you to do this?
My life. The bad moments in particular.
I try to write poems specially when i'm sad, but I'm not a wonderful poet!
What would be the best advice you would give a person approaching A level years?
I would advise that you always have a lot of patience, passion and desire. Life for me is a pursuit to happiness, sometimes difficult but necessary for the artistic and spiritual growth.
Sum your work up in three words?
Dreamy, Misterious , Visionary